About Shanghai

Shanghai (Chinese: 上海, Shanghainese pronunciation: [zɑ̃.hɛ]; Mandarin Chinese pronunciation: [ʂâŋ.xài]) is one of the four municipalities of the People's Republic of China. Located on the southern estuary of the Yangtze with a population of 24.2 million as of 2018, it is the most populous urban area in China, and the second most populous city proper in the world (after Chongqing).
Shanghai is a unique city because of its all-embracing tolerance of cultures. This is an impressive city because of its many sites of historical interest. This is a vigorous city because of its flourishing economy. Today, the city draws the attention from all over the world. This city is Shanghai.

Shanghai, known as "Hu" or "Shen" in short, lies on the west bank of the Pacific and the east coast of the Asian continent and halfway along China's coastline, with an area of 6,340.5sq.km. It enjoys four distinct seasons, abundant sunshine and rainfall.
Shanghai became a town in 1291, when the central government in the Yuan Dynasty established Shanghai County. It was once the largest economic center in the Far East. Today, Shanghai's economy and society have undergone historic changes. It is striding toward an international economic, financial, trade and shipping center.
Shanghai, is a melting pot with all-embracing tolerance of cultures and a fascinating metropolis blending dynamic fashion and graceful nostalgia. Just like someone has said that, it is where old people can cherish their memory of the past and young people can find fashion to follow, foreigners feel very Chinese and Chinese feel very foreign, which is indeed the true essence of Shanghai culture. Historical attractions, unique geographical location, attractive culture, diverse cuisine, fashion-forward shopping, fascinating nightlife, world-class hotels, convenient transportation, home to many international corporations and business hub of Asia – Shanghai has got the lot. No wonder people view Shanghai as one of the most vibrant and colorful cities in the world. It is the favorite destination for your next events.
Here, we recommend some sightseeings in Shanghai, but not the final arrangement.
Zhujiajiao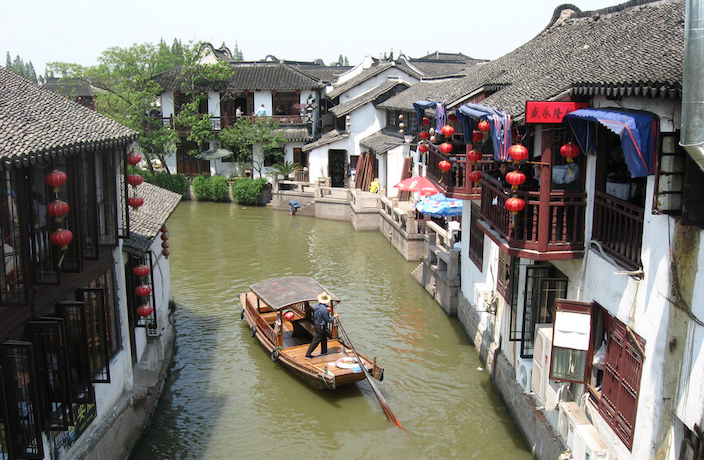 China's many man-made canals are an iconic and picturesque reminder of its ancient past, and it's still possible to see many of these waterways almost exactly as they were thousands of years ago.
Zhujiajiao Water Town, located on the outskirts of Shanghai, is a typical example of China's historic canal towns and is famed throughout the country for its well-preserved ancient architecture and rivers. Visiting Zhujiajiao is a great way to escape from the commotion of the big city and makes for a great morning activity or daytrip for those visiting Shanghai.
Highlights and Travel Tips
Known as the "Venice of Shanghai," Zhujiajiao Water Town is an idyllic retreat and features several archetypal characteristics of China's ancient water towns, including peaceful canals, ancient stone streets and bridges, and several homes and buildings that date back to the Ming Dynasty (1368-1644).
You can enjoy Zhujiajiao's narrow, zigzagging streets and graceful canals by simply walking around the town. Another popular method for appreciating this famous water town's bucolic atmosphere is by boat. For a reasonable fee, you can take a ride in a traditional canal boat and tour the town's most scenic spots.
The town's 36 bridges offer superb views of the many waterways and are a well-known attraction. Fangsheng Bridge is the longest and largest of these bridges and dates back to the 1500s. Lang Bridge is the town's only wooden bridge and was built in the form of a long, traditional corridor that stretches across the canals.
North Street is another popular destination in Zhujiajiao due to its numerous ancient buildings. The street is just one kilometer long and so is easy to cover, and it features several historic buildings and bridges from the Ming and Qing dynasties. Just across the Dianpu River from North Street, you will find Kezhi Garden, a particularly large and beautiful traditional garden. You can climb to the top of the garden's central hill to reach Moon View Pavilion, the highest point in the town. Zhujiajiao Water Town can be easily accessed from Shanghai by taxi, bus, or subway.
Recommended duration of this activity: 2-3 hours
Entrance fee: There is no fee to visit Zhujiajiao Water Town, but many of the sites in the town do charge a fee. If you'd like to take a boat cruise, you can purchase a 120 RMB ticket to do so—this ticket also includes access to nine of the town's most popular attractions. A 60 RMB ticket will gain you access to eight of the same attractions, but does not include a boat cruise.
Tianzifang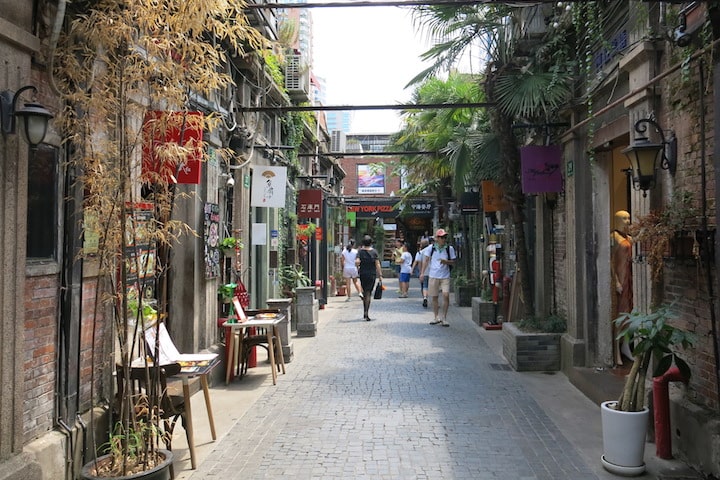 This part of Shanghai, which covers several blocks to the west of the Bund, was once a foreign concession under French possession from 1849 to 1943. From its time as a European district to now, the French Concession has maintained its reputation as a high-end shopping and dining area. Today, it is a popular destination for tourists due to its charming tree-lined avenues, European cafes, and quirky shops.

Many visitors to the Former French Concession head to Tianzifang, a historical area made up of traditional alleys and shikumen homes with over 200 diverse small businesses including cafes, restaurants, art galleries, craft stores, and studios. Even though you'll find many souvenir shops here, the area has not been overly developed and maintains much of its historical charm. It is distinctly different from Xintiandi, another popular destination in the vicinity, in that it has managed to preserve a residential feel, adding to its appeal.

Tianzifang is also home to an emerging coffee culture, making it a great place to enjoy a caffeinated beverage while people watching and taking in the unique surroundings.

Average time for this activity: 1 hour
Yuyuan Garden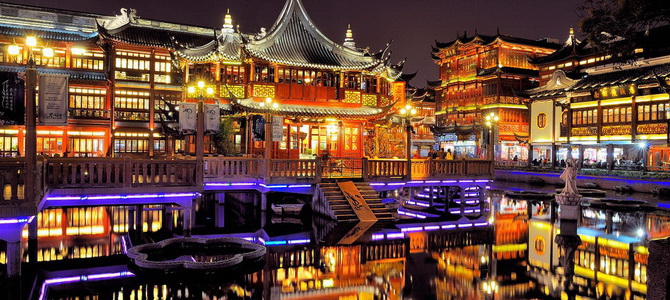 Yuyuan Garden, also known as Yu Garden, is an ancient garden built over 400 years ago during the Ming Dynasty. These exquisite gardens in the heart of Shanghai are an iconic example of traditional Chinese garden architecture and a popular destination for visitors to the city.

Finely cultivated with an eye for style and detail rarely seen in modern gardens, Yuyuan Garden is a peaceful retreat from the crowded city streets. Yuyuan Garden is also a good preview of what you will see if you plan on visiting the historic gardens of Suzhou not far from Shanghai.

Although the garden is not enormous (it occupies an area of about five acres northeast of Shanghai Old Street), it features a number of attractions, from ancient pavilions and pagodas to scenic ponds, and includes six main scenic areas: Sansui Hall, Wanhua Chamber, Dianchun Hall, Huijing Hall, Yuhua Hall, and the Inner Garden. All of the sections are unique and have their own special charms.

One of the garden's main attractions is the Exquisite Jade Rock, a large, porous rock that was beloved by the garden's creator, a government official from the Ming era named Pan Yunduan. Another popular activity is to climb to the top of the Great Rockery, one of the largest and most impressive in the region, which offers great bird's eye views of the surrounding gardens.

The main paths in Yuyuan Garden can get a bit crowded, but there are plenty of smaller areas of the garden where you can find some peace and quiet. To avoid the crowds, we recommend going to the gardens in the morning or on a weekday.

Just outside the garden itself, you will find Yuyuan Bazaar, an area with hundreds of shops and stalls selling souvenirs and snacks. There are also a number of teahouses and restaurants in this area where you can find a decent lunch, as well as some Western chains like Starbucks and Häagen-Dazs.

Entrance fee: 40 RMB (April–June, September–November); 30 RMB (July–August, December–March)

Opening hours: 9:00am until 5:00pm with last admission at 4:30pm

Recommended duration of visit: 1.5 hours